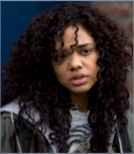 The actress Tessa Lynn Thompson was born on October 3, 1983 in Los Angeles, California. She is the daughter of singer-songwriter Marc Anthony Thompson and the granddaughter of actor- musician Bobby Ramos. She was raised in Los Angeles before moving to Brooklyn, New York. Her father is of Afro-Panamanian ancestry and her mother is of Mexican and British Isles ancestry. Thompson attended Santa Monica High School, where she was featured in numerous theatre productions. After graduation, she enrolled at Santa Monica College, where she obtained a degree in cultural anthropology.

She starred as Juliet in William Shakespeare's drama "Romeo and Juliet" in a production held at the Boston Court Theatre in Pasadena, California. Her performance from earned her the NAACP Theatre nomination the same year. Away from the theatre stage, In 2005, Tessa made her first television appearance when she starred in the CBS series Cold Case (2003). Talented like her father Marc, Tessa's versatility extends to music, as a member of Electro Band, through which she has produced many songs, including one used in her film 'Dear White People.' Since her acting career began in 2002, Tessa has played remarkable roles in popular television series and movies including Murder on the 13th Floor (2012), Make It Happen (2008), Red & Blue Marbles (2011), Selma (2014), Creed (2015), War on Everyone (2016) and Thor: Ragnarok (2017), just to mention a few.

A Vermont native, Piper has been a model since she was a child. Some of her most notable ads include Ralph Lauren, Abercrombie & Fitch, Limited Too, and Town & Country (editorial). Piper's ads caught the attention of Director Bruce Isacson, and as a result she was brought in for an audition. Piper's innocence and raw talent were a perfect fit for Director Isacson's vision for the character of Barb, and consequently she was cast in that role.

Emma Bates has guest starred on numerous television shows such as Without A Trace, Cold Case, Monk, Crossing Jordan, NYPD Blue, So Notorious, American Dreams and CSI: NY. She was in the Sundance Film Festival award winning film Design, as well as the LA Film Fest favorite Forty. Emma has also performed in theatre all over the world from the Edinburgh Fringe Festival in Scotland and the National Theatre of Korea, to the American Players Theatre and the S hanghai Theatre Center. She attended the theatre conservatory at the University of Wisconsin where she received her BFA. Emma is known for "Much Ado About Nothing", and "Cold Case".

After searching all of Los Angeles and unable to find the right actor for the character of Shon, Mormon-Boling Casting found this talented teenager in Phoenix, Arizona who was in process of developing of a half- hour pilot for a comedy series called Regarding Beauregard. Mickey and Mark Taylor starred in this pilot directed by Lucas Grabeel, of High School Musical fame. Mickey's natural acting abilities fit right in with Director Bruce Isacson's foresight into this character. Mickey had a role in the TV Movie, "Regarding: Beauregard".

Nate's performed in the Nickelodeon series, "Unfabulous", and Disney shows, "Zeke and Luther", "J.O.N.A.S!" and "Hannah Montana", and he acted opposite John Malkovich in the feature film, "The Great Buck Howard". Nate had a lead role in Drillbit Taylor", with Owen Wilson, and he co-wrote and starred in the 2015 film "ImagiGARY" He can currently be seen on ABC's The Goldbergs as the recurring role of Dan Morse.

Britt grew up in Charleston, South Carolina and made her stage debut at 8 performing in a Christmas Carol. With the Actors Theater of South Carolina Britt played Goering's daughter in Goering at Nuremburg. When Britt was 11 she was chosen for a summer internship at Julliard in New York City where she continued to develop her singing and acting skills. Britt changed her stage-name to Brittny Perrotta, and performed in the feature films, "Ready? OK!", "The Age of Innocence", and "All for Liberty".

Paige Brown has been acting since she was 8 years old. Paige's passions are acting and singing. To date her highlights include: ABC's "Help Me Help You" and ShowTime's "United States of Tara". Paige has also been cast in 4 pilots for television, some which included "American Family", and "Gagsters." At 13 Paige was invited to sing back up on Gwen Stefani's album, "The Sweet Escape," credit under Talent Boot Camp Kids. Paige is known for "United States of Tara", "Help Me Help You", and "Victorious".